FDA Approves Aspero Medical's Revolutionary Pillar Balloon Enteroscopy Overtube
Startup company improving endoscopy procedures with their patented balloon technology continues to bring innovative products to market
Boulder, Colorado – Aspero Medical, Innosphere Ventures Fund Portfolio Company and medical device startup focused on design and development of innovative technology to improve gastrointestinal (GI) endoscopy procedures, has received clearance from the Food and Drug Administration (FDA) to market and sell the Ancora-SB small bowel balloon overtube that incorporates the company's patented Pillar micro-texture balloon technology. Ancora-SB is cleared for use during small bowel enteroscopy procedures.
"We are incredibly pleased to receive FDA 510(k) clearance for the Ancora-SB device, and look forward to seeing the anticipated clinical benefits," said Dr. Rentschler, Aspero Medical CEO. "We believe this novel balloon design will have a significant impact for both caregivers and patients."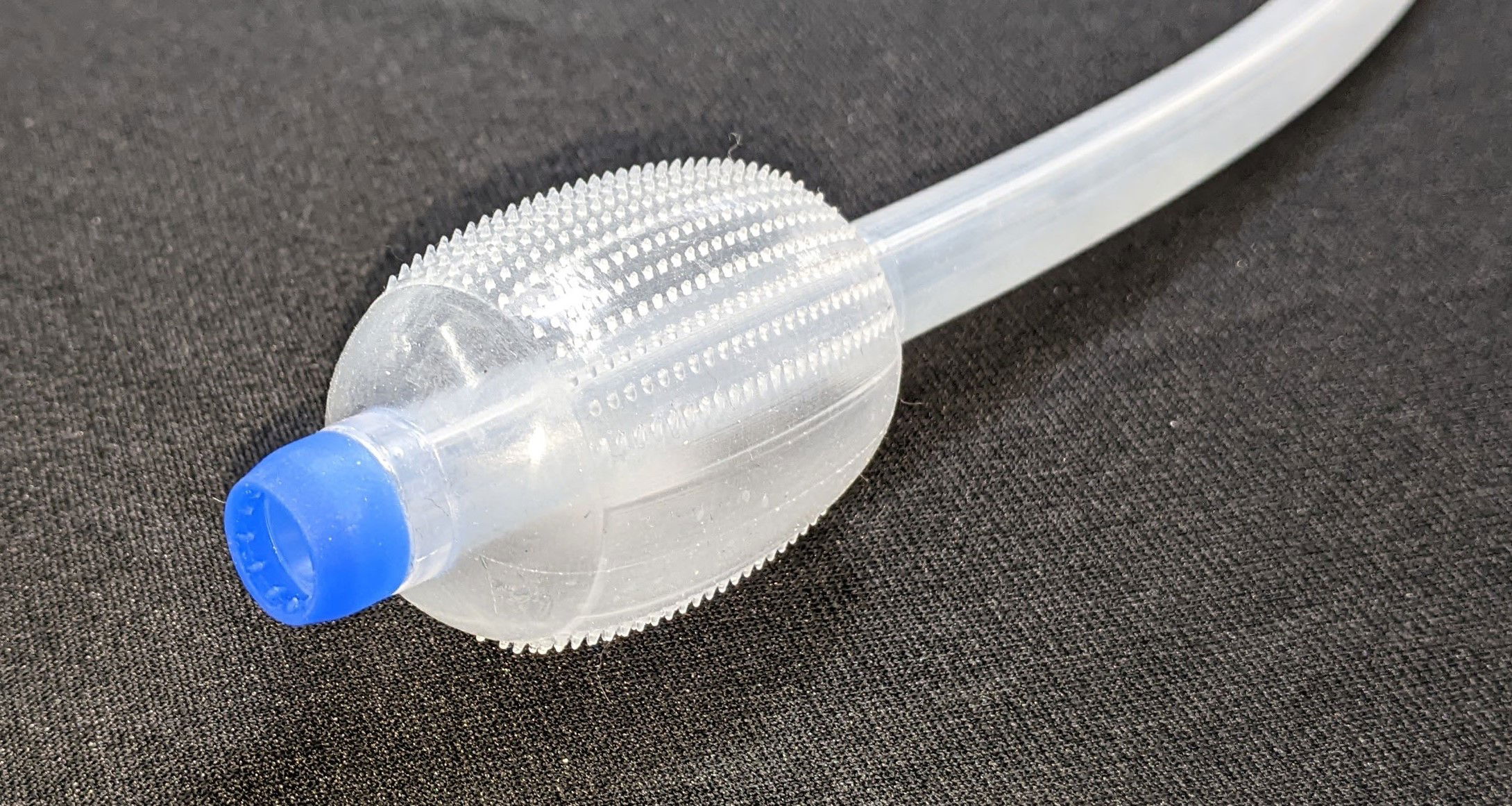 Balloon endoscopy has become the standard of care in the drive to diagnose and treat small bowel disease. Unlike the Aspero Medical Pillar balloon, which is characterized by the addition of a proprietary gripping micro-texture, current balloons are smooth and round, making them prone to slippage. Ineffective balloons are estimated to result in significantly increased healthcare costs annually due to incomplete or lengthened procedures.
"The ever-increasing number of patients suffering with small bowel disease requires that we look to develop innovative diagnostic and treatment options, including devices like the Ancora-SB which is designed to enable more efficient small bowel enteroscopy procedures," said Dr. Steven Edmundowicz, Chief Medical Officer for Aspero Medical. "We look forward to ensuring that the Ancora-SB is available for all cases where the innovative design can make a difference."
Ancora-SB, a next-generation balloon overtube for GI endoscopy procedures, was initially developed in part through grant funding from the State of Colorado's Office of Economic Development and International Trade and through National Institutes of Health (NIH) SBIR. Aspero Medical is continuing to innovate in GI endoscopy, and plans to expand the Ancora platform as additional products are brought to market in the near future.
"There are significant limitations with current technology used in gastrointestinal endoscopy procedures, but Aspero has developed an alternative that will potentially improve performance of certain procedures, save time for practitioners and patients, and improve patient outcomes," said Mike Freeman, Innosphere Ventures Fund General Partner. "We look forward to continuing to support the company and the ongoing product development efforts."
MEDIA CONTACT:
Mark Rentschler, CEO, Aspero Medical
(720) 315-5165 | [email protected]
About Aspero Medical:
Aspero Medical's patented Pillar micro-texture balloon technology was developed to improve gastrointestinal endoscopy procedure performance and outcomes. Aspero Medical was founded in 2018 by Mark Rentschler, PhD, PE, Professor of Mechanical Engineering at the University of Colorado Boulder, and Steven Edmundowicz, MD, Professor and Medical Director of the Digestive Health Center at the University of Colorado Anschutz Medical Center, and received initial equity funding through Innosphere Ventures, Fort Collins, Colorado. www.asperomedical.com
About the NIH:
Initial Ancora-SB research was supported by the National Institute Of Diabetes And Digestive And Kidney Diseases of the National Institutes of Health under Award Number R43DK126504. The content is solely the responsibility of the authors and does not necessarily represent the official views of the National Institutes of Health.
About Innosphere Ventures Fund:
Innosphere Ventures Fund is a venture capital fund leading early-stage investments for companies who are driving innovation in the B2B SaaS Software, Cleantech and Medtech sectors. The Fund's general partners have extensive operator knowledge and industry experience. Our team is small, fully integrated, and impact-oriented to produce successful results. We bring more than just capital; we bring differentiated domain knowledge and access to our expert partners from across the globe. Innosphere Ventures Fund has a strong foundation built on its successful first fund and its leading accelerator program which has operated for over two decades. www.innospherefund.com